What a good wine year 2011 has been so far. (If you look at wines over 100 SEK at Swedish Systembolaget) And here is one more great wine for nomination towards Vinblogg wine of the year 2011.

Many of you surely know that I am a great South African wine fan. But I have to start this article with some comments on the development of the SA wine industry. The investment and growth has been tremendous last decade. The global wine customers have taken this great wine country to their hearts. But with fame comes responsibility. I have to say it loud and clear, that I am generally disappointed in many new reds released last couple of years. They are absolutely too fruity, over done and not competitive in prizing in a global comparison. I am sure, many producers will learn quickly and turn around to the right track again.But of course there is a lot of producers that do it already. And the wine from Kanu in Stellenbosch is a thrilling example.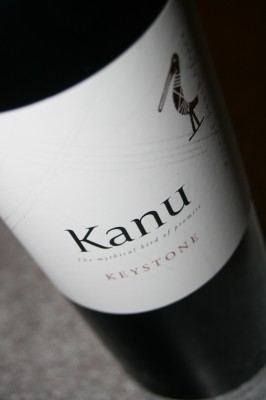 The wine has a beautiful dark cherry color. The nose gives you a balanced palate of fruit, some spiciness, plums, licorice, Italian chocolate and roasted almonds. And the taste of this wine really gets me going. Mouth filling taste with a well structured fruity roasted character and hints of espresso, almonds, plums and black currant. I am happy that I found this wine when I doubted some what in SA reds. This is a fantastic bargain for this excellent quality. Please use the opportunity to buy before it's sold out and to drink now and over next 10 years.
Special remark!
The combination of Cabernet Sauvignon 67 %, Cabernet Franc 20 %, and Malbec 13 % is excellent done. I congratulate the wine maker Johan Grimbeek to the choice of having a rather high level of Cabernet Franc. (Why not try a single Cab. Franc at some point ;=))
The name Kanu is derived from a veteran farm hand on Goedgeloof, who told of the legend of a mythical bird of promise. The story tells that when the bird appeared, all those who fell under its shadow would be blessed with a bountiful harvest.
The music with Adele is now no 1 on the SA radio hit list! And to our Dear SA friends Johan and Danelle. We miss you a lot!
https://youtube.com/watch?v=FiMK9e0h6YE%3Ffs%3D1