Last Saturday the www.diderot.se/www.vinblogg.com had its first annual meeting to select the wine of the year award. A jury of 6 prominent and knowledgeable wine fans together with myself where chosen to make the picks.
As the Chairman I had the privilege to nominate the wines in the different classes. But I have to admit, it was not easy at all. I had to try a lot of wines to make my decision.

Normally I find it difficult to find bargains when choosing white wine. My experience is that you often have to go up rather high in price level to find quality. This year has been an exceptionally good year when it comes to finding really good white wines to nice prices.
And the winners are….
In the white wine class less then 100 SEK
Boulder Bank Sauvignon 2009
A fantastic price for this great wine from down under. Recommended to a spicy mussel soup.
In the white wine class less then 200 SEK
Jordan Chardonnay 2009
Normally I don' t like wooded Chardonnay (blaming the Aussies in the late 80ies), but this wine is a great exception. I am so impressed in this wine and the producers handling of the Chardonnay grape. Minerals, citrus and a lot of tropical fruit. Yummy!
In the white wine class over 200 SEK
Esperit de Beaucastel Blanc 2007
The wine is made from the Roussanne grape with a golden yellow color and the smell is stunningly fine tuned with hints of rose, citrus and honey. The taste is magnificent and hugely seductive, with sweet honey flavors, nice sweet spiciness and a great finish of tropical fruit. I can only bow my head down and congratulate this amazing wine. I put it in firstplace of all white wines I've tried, even before the Zind-Humbrecht Riesling Brand and it says everything at least for me.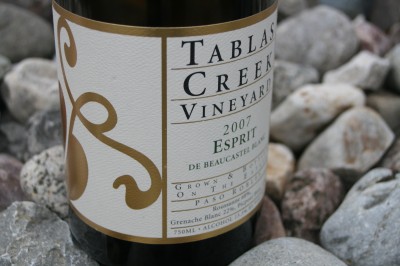 California here we come!
https://youtube.com/watch?v=wq-S8CIU7VA%3Ffs%3D1