One of the happiest days of the year (for adults) is coming soon…and I am not speaking about X-mas.

In Sweden the New Years dinner is something very special with a lot of expensive and excellent dishes on the menu, mostly cooked at home with family and dear friends. The main course will most likely be baked fillet of beef with pepper sauce. And what kind of wine should you choose to this course of tender beef? I would most certainly want to drink a really good Chianti Classico and by coincidence the Swedish Systembolaget now in December released a great example of "me like" wine.
I have earlier in my blog written about the biodynamic way to produce wine. This concept was established by Rudolf Steiner already in 1924. Querciabella, an Italian wine producer from Greve in Chianti near Florence, have been producing in accordance to the biodynamic way since the year 2000. A good decision that I highly congratulate and it really shows when drinking their excellent wine.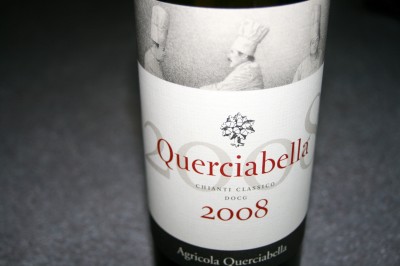 The wine Querciabella Chianti Classico from 2008 is surprisingly delicious to drink already now but can easily be kept in the cellar for 10 years.
The aroma is spicy, fruity, subtle fragrance with notes of cherries, wild raspberries, thyme, licorice and chocolate. The flavor is wonderful with a subtle spiciness combined with nice fruitiness and hints of cherries, wild raspberries, herbs, licorice and cocoa. A great example of the Chianti tradition of wine production in a modern presentation. I hope at some point to be able to test more wines from this excellent quality and biodynamic producer. So my advice would be, that if you go for tender beef fillet as main course to New Years eve, please try this wine.
A special highlight for the fantastic wine label that really gets me going. Pure Art, Grazie!
Finally I would like to send this message as a tribute to my dear colleagues Micke and Zoran. Two great singers that will make history on Friday evening. This video called "Without Me" is made by British punk rock band British Beef formed in Swindon 2004. Please enjoy!
https://youtube.com/watch?v=yCsUJetrVBA%3Ffs%3D1