Two weeks ago the www.diderot.se/www.vinblogg.com had its first annual meeting to select the wine of the year award. A jury of 6 prominent and knowledgeable wine fans together with myself where chosen to make the picks.
What a great year for reds and difficult to nominate only the best, taking a combination of price and quality into consideration.
And the winners are….
In the red wine category less then 100 SEK
Terre de Mistral 2009
The wine is made with Grenache as main part and supplemented with Syrah and Mourvedre. The color is beautiful purple and smell pleasant with a nice fruitiness blended with lavender and Provencal herbs. The taste is impressive with a nice balance of fruit and spice mix in a nice way. A real bargain…
In the red wine category less then 200 SEK
Les Obriers de la Pèira 2007
The wine has an interesting nose, with hints of wild berries and sweet licorice. Palate is hughly seductive with a fireworks display of chocolate, licorice, plums and violets combined with a velvety body. A fantastic wine that offers more than you can ask for.
In the red wine category over 200 SEK
Craggy Range Te Muna Road Pinot Noir 2008
Craggy Range from Hawks Bay in New Zealand is widely acknowledged to be one of the island's best Pinot Noir producers. Te Muna is a 90 acre vineyard and the name means secret location.
The aroma is typical of Pinot Noir with lovely and sensations of wild raspberries, milk chocolate and vanilla. The wonderful flavor that makes my body to react with a physiological phenomenon, goose bumps, signaling that it is a top wine. The mouth is filled with strawberries, chocolate, herbs, plums and a little toffee. Te Muna has reached a secret place in my heart and is by far the best Pinot Noir I've tried from this island. Unfortunately the jury couldn't try this wine because of me, sadly enough I only bought one bottle when it was released in Sweden.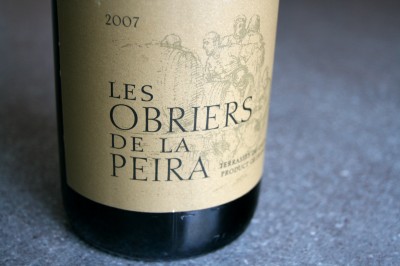 Over all winner of the Vinblogg Grand Prize 2010
Les Obriers de la Pèira 2007
This wine is produced by the estate La Pèira en Damaisèla in the French appellation Coteaux du Languedoc and owned by music producer Robert Dougan. The winemaker Jéremie Depierre handling of the traditional grapes Cinsault and Carignan is sensational and we congratulate him and the whole team for this amazing effort.
To celebrate Robert Dougans win please look at enclosed videoclip with his production Clubbed to Death. Thanks to all for reading the blog 2010 and welcome back. Happy New Year

https://youtube.com/watch?v=_YCGtT_FRYg%3Ffs%3D1