I would like to dedicate this blog posts to my dear South African friends Danelle and Johan!

Have been in amazing South Africa several times and visited more than 100 wineyards. I have also tasted a lot of the SA wines because of the Swedish state owned Systembolaget. They have been generous enough to release many great wines to even greater prices. (unfortunately this is rapidly starting to change)
In the lovely French inspired gourmet town of Franschhoek, close to Stellenbosch, you can find a lot of excellent restaurants and winery's. It´s beautifully located, covered by mountain sides in a horseshoe-like shape. If you plan to visit Western Cape, you have to include this in your plans.(please visit larochelletours.com)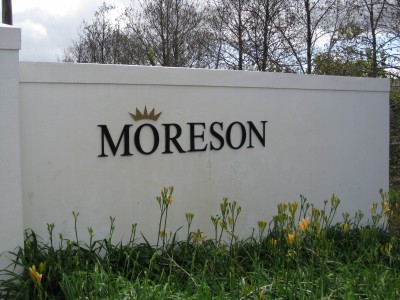 The wine I have tasted is from Môreson(meaning "sun of the morning"), a beautiful riverside winery that nestles in one of South Africa's most picturesque mountain settings. All their wines are really good but one is a class of itself. Before telling you about the wine I have to admit that I love wines with a higher percentage of the difficult Cabernet Franc grape. Many producers that try fails, but this one is different. (Vergelegen had an excellent cabernet franc but ended with top rated vintage of 2000)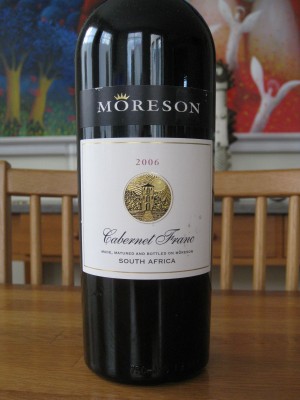 The color of the wine is sexy dark red and the smell is great with well balanced fruit, hints of horse stables, leather, tobacco, nice herbs and chocolate. And what a fantastic taste…well structured tannins create a perfect setting for the mix of Mediterranean herbs, exclusive dark-chocolate and cherry. This wines offers a +60 second journey when you taste it. Of all the SA wines tasted, this state of the art cabernet franc is the best ever tasted.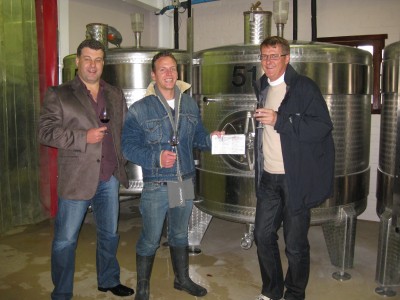 This picture is taken when tasting the Cabernet Franc at site!
The winery earlier only used the Cabernet Franc to blend in the flagship red Magia. But luckily the brave and wise management decided to produce a small quantity of only Cabernet Franc. I had the privilege to taste the first vintage of 2005.(not released to the market) I loved that wine but this is even better!!!

Congratulations Môreson
Ek is lief vir Suid-Afrika and hope I will be with my dear friends soon again! Please look a this fantastic video that describes a unique wild life story from SA.
https://youtube.com/watch?v=NA1i36Dd1qs%3Ffs%3D1