Dear readers,
I have the privilege to announce the jury´s decision for this years Vinblogg wine of the year in the Champagne class. In fierce competition we finally chose to pick this superb quality Champagne from the producer Beaumont des Crayères. This fantastic Champagne house with 86 hectares is situated near Epernay. A rather short history started in 1955 with a group of wine producers from Mardeuil. One of the best slopes in Mardeuil is called Beaumont des Crayères.
I visited this excellent producer this summer and had the chance to test several of their Champagnes. A great tasting room with walls over crowded with global awards. And even with all these awards you could feel a very professional and humble attitude towards what they have accomplished. I warmly recommend you to make them a visit.
And now 2 the winning Champagne…
This amazing effort is a prestige vintage from 1999 called Nostalgie cuvee that is only produced in exceptional years. The color is golden-yellow with beautiful bubbles. The nose is rich and complex with honey and roasted almonds. The taste blowed the whole jury away with its full creamy taste of almond, citrus and fine minerals. This great Champagne will be develop further and get even better at least 10 more years.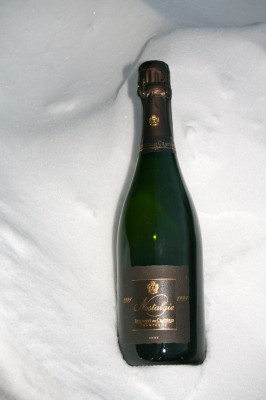 Congratulations to the winemaker, owners and all staff. Please continue making fabulous Champagnes to excellent prices in a consumer point of view.
https://youtube.com/watch?v=oA3pESvUl3I%3Ffs%3D1