Hello Europe, Malmö calling. This weekend Malmö subway system was opened for the public. Now our small city of 300 000 people are even more connected to Copenhagen and the rest of continental Europe.
I had the great pleasure of serving the Elephant Hill Chardonnay on my daughters graduation party in June. Now in December the Elephant Hill Reserve Syrah is released by the swedish Systembolaget.
Most of you readers remembers that I love meaty "Rhone style" wines and this is the kind of wine in my style. The smell is big with a spice fruityness and noticeable roasted wood character together with hints of blackberry, plum, pepper, violet and coffee.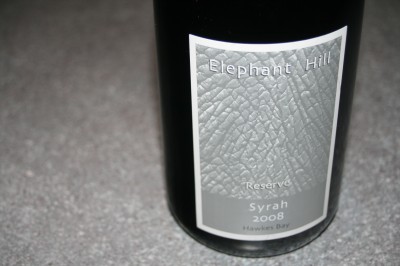 And what a taste!

This super fleshy wine has a fruity flavor with hints of blackberry, plum, pepper and licorice. I am so impressed with the progress of New Zealand wine industry and this is a great example of extremely good quality wines to an affordable price. Congratulations Elephant Hill winery for your efforts and it´s a pleasure serving your wines. And when I visit New Zealand I will certainly visit your winery.
Finally a song by Virginia "Gin" Wigmore from New Zealand that won the national Music Award 2010.
https://youtube.com/watch?v=cGdIpcj0HJo%3Ffs%3D1