Springfield Wild Yeast 2006 (95604)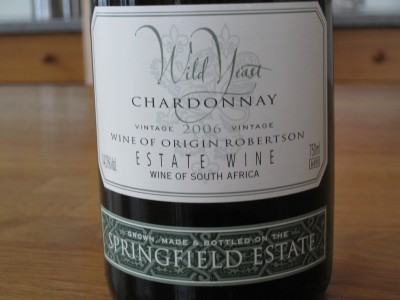 Unfortunately Bafana Bafana is not playing equal to the high world class standard of the South African wine industry and the national rugby team Springboks. But to have the World Cup in South Africa makes me very happy and proud. SA will always have a special place in my heart and I am bound to the African soil.
One of my favourite white wines is the unwooded Chardonnay from Springfield Estate in the Robertson area. The area have a very special climate with hot days and cool nights. That makes a perfect set-up to produce top crispy Chardonnay.
The nose is filled of fruity structure with hints of apple and citrus. The taste is great with a good balance and marvellous texture. Apple, citrus and tropical fruit in perfect harmony.
Thanks Springfield and South Africa for this wonderful wine.